SeaPhoto/ Catalog/ Catalog Index
Welcome to the SeaPhoto Online Catalog. If you have not visited before, please read the introduction, as it has important information about the products offered by SeaPhoto. In particular, pay attention to the "Q" or quality rating of each set, as they do vary in photographic quality (Q9 is the highest rating)
If you are making a model of a ship, you may be a bit overwhelmed by the selection. Don't worry, you can always purchase additional photographs - though by all means, order as many as you like at any time! I have found in general that the most useful photographs are those taken from overhead as a ship goes under - many of my shots have been taken from the Golden Gate Bridge, one of the premier spots in the world for a ship photographer. In general, I take a couple of overall views, and then a mosaic of shots from the bow to stern as the ship passes. These can be extremely useful. Don't overlook the same type of shot taken from shore too. I also have a large assortment of on board photographs taken aboard many different ships, for those that want the "nuts and bolts". Be sure to visit the sample pages when you get a chance.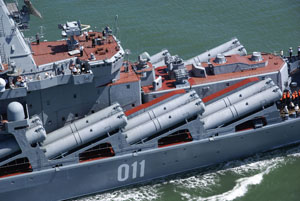 Russian Cruiser Varyag, photographed from the Golden Gate Bridge - click on the image to see what digital photos look like when delivered electonically. To find sets taken digitally, look for this icon

Shots taken during the film era will not be as large, averaging 1800 pixels when scanned. Click on the image for a full size sample
The Catalog is organized by ship type. I have kept the pages simple and the graphics small to speed loading and to allow you to print them if you desire. If you have any questions, please email me!
Please note that many of the illustrations in the online catalog are in black and white. All SeaPhoto sets (except a few that are clearly noted) are full color: Black and white is used to speed page loading and conserve server space.
Kurt Greiner
Owner, SeaPhoto Maritime Photography.
What's New in the Online Catalog Last Update 9/ 26 / 2021
Would you like to get an email when the website is updated with new photo sets? Send us an email here to subscribe to our mailing list, which is only used for that purpose.
SeaPortraits - individual prints from slides
---
Books by Kurt Greiner featuring SeaPhoto photography:
Warship Pictorial # 24 - Arleigh Burke Class Destroyers - Limited Supply Remaining.
Warship Pictorial # 35 - Ticonderoga Class Guided Missile Cruisers
---
SeaPhoto Photo CDs!
We now have photo CD's for the following ships. Click for more details on any CD.
Digital Delivery! CD's are now available for delivery via Dropbox, a service that costs nothing for you to use. With digital delivery there is no shipping fee, and you generally get your files the same day you order. With digital, you don't have to worry about system compatability either.
| | | |
| --- | --- | --- |
| USS Midway (CV-41) -Class (2 CD set). This pair of photo CD's include onboard coverage of the museum ship, supplemented with views of both the Midway and Coral Sea when they were operational. A great value! | USS Pampanito (SS-383) - Photo CD. Includes extensive onboard covereage, drydock views, overhead views, and more. Perfect for use with the upcoming Revell kit. | USS Texas - the Ultimate CD! - This is the big one, with hundreds of onboard shots, period shots, scans of cruise books from both World Wars, drawings, photos of Derek Brown's award winning 1/350 scale model and even more! |
| Russian Slava Class Cruiser Varag - A very comprehensive photo collection covering this ship, including on board, overhead and at sea views. | Russian Sovremennyy Class Guided Missile Destroyer CD - great detail shots of this ship, along with two other ships, a Russian training ship, the Smol'nyy, and the Indian Krivak class frigate Talwar. Be sure to check this one out, it is an outstanding value. | USS New Jersey World War II Cruise Book on CD - the complete contents of the War Log, 1941-1945, the cruise book of the USS New Jersey. Every page has been scanned, including covers and end papers. The books covers the crew and history of the New Jersey, from launch to victory. Many great action photos too. |
| USS Missouri (BB-63) - shots of the museum battleship, underway views from 1991, and shots of the 1/48 scale Gibbs and Cox model in the Washington Navy Yard, all on one CD! | USS Cobia (SS-245) and USS Cod (SS-224) - views of two museum submarines, including many details | World War II German Destroyer CD - From the US archives, detail shots of the Z-39 and T-35, fantastic views that until now were very expensive to obtain. Many details and overall views of these fine looking ships, including drydock shots. You will not be disappointed! |
These CD's are excellent values, and we have received nothing but positive comments on them.
Please note that these CDs will work on PC systems only, not Mac. If you have a Mac, please choose digital delivery and we will send the contents to you via Dropbox !
---
SeaPhoto Photo Sets
Ships and Weapons of the US Navy and Coast Guard
---
---

Other Nations Warships
---
Merchant Ships
---
715 Version 33