SeaPhoto / Catalog / Catalog Index / US Navy PT and Special Warfare Craft
PT, Patrol and Special Warfare
Cyclone Class (PC-1)
USS Monsoon PC-4
These ships that deliver and support the SEALS. Interesting!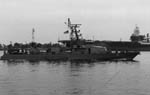 Set PC4A 14 views, o/b and from dock, details. Q8 $ 10.50

Set PC4B 24 o/b views, Many good details in this set. Q9 $ 18.00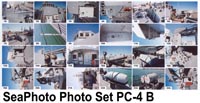 Set PC4C 2 overall views of port side $ Q8 $ 1.50
Set PC4D 22 o/b details, mast, bridge, fosc'l Q9 $ 16.50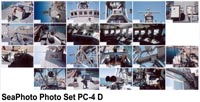 Set PC4E 1 starboard overall view, underway from pier Q9 $ .75
Set PC4F 1 overall portrait, ¾ port stern, ship is camouflaged, SD 3/97 Q8 $ .75
USS Typhoon PC-5
This set features interesting views of the Camouflaged USS Typhoon, taken in overseas waters. Courtesy L. Van Ginderin Collection.
Set PC5A 3 views, from boat, all overall views. 1 ¾ bow port, 1 port overall, 1 ¾ stern stbd, vessel is underway in last views. Nice set. Q9 $ 2.25
USS Scirocco PC-6
Photographed 6/95 in European waters.
Set PC6A 1 view, starboard side view of ship underway at slow speed. Q8 $ .75
USS Zephyr PC-8
Photographed 1999 at San Francisco, CA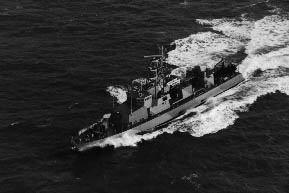 Set PC8A 8 views, from Golden Gate Bridge, 1 nice overall ¾ bow port, 7 details, one a bit blurry, but useful. Q8 $ 6.00
Set PC8B 10 views, from Golden Gate Bridge, 2 nice overalls, bow on, and slight stbd angle, 8 details, mosaic bow to stern. Nice Q9 $ 7.50

USS Firebolt PC-10
Photographed 5/95
Set PC10A 1 view, starboard side overall from shore, ship is underway. Q8 $ .75
USS Thunderbolt PC-12
Set PC12A 4 views, from shore, one bow on overall, 3 details of weapons Taken 6/97 Q9 $ 3.00
Set PC12B 12 views, from pier, 10 nice overalls, different angles, 2 details, amidships area Taken 9/92 Q9 $ 9.00
PT Boats
PT Museum at Fall River, MA PT 617 This museum has two boats on display, and is a very good source for information on the "mosquito boats", those plywood hulled, avgas fueled chariots of fire.

Set PTMA 21 views, inside museum, includes views of PT-617 Q7 $ 15.75
Set PTMB 2 views of PT boat bow, from underneath Q8 $ 1.50
PBR (Patrol Boat River)
PBR
This example of a PBR represents those that served in large numbers during the Vietnam conflict, and is preserved in Charleston, SC
Set PBRA 4 views of PBR in water display, bow and stern Q8 $ 3.00
If you came to this page via an off-site link, just click the back button on your browser to return.
6/17 Version 2.4
360