SeaPhoto / Catalog / Catalog Index / Italian Navy Warships
Italy
Guided Missile Destroyers
Luigi Durand de la Penne Class
In service since 1994, this good looking, modern destroyer is very heavily armed for its size.
Luigi Durand de la Penne D-560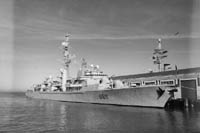 Photographed 10/96 at San Francisco, CA
Set D560A 16 views, from Golden Gate Bridge 1 nice ¾ port bow overall, 15 details, mosaic from bow to stern as ship passes. Very nice set. Q9 $ 12.00
Set D560C 14 views, on board, helicopter, superstructure, torpedo tube, rocket launcher Q8 $ 10.50
Set D50D 16 views, onboard, fosc'l, weapons sea sparrow launcher, mast, radar, missile directors. ` Q8 $ 12.00
Guided Missile Frigates
Modified Lupo Class
Originally ordered by Iraq, these frigates, under construction in Italy, were acquired by the Italian Navy following the Gulf War
Bersaglierre F-584
Photographed 10/96 during San Francisco's Fleet Week Celebration.

Set F584A 11 views, from Golden Gate Bridge, 1 very nice ¾ bow port overall, 10 details, mosaic bow to stern as ship passes. Nice set Q9 $ 8.25
Set F584B 3 views, from adjacent warship, main gun, bridge front, director on top of bridge Q9 $ 2.25
Set F584C 24 views, from shore, looking across to ship, cluttered background, but good details, mosaic bow to stern Q8 $ 18.00
Set F584D 6 views, from another ship, fosc'l, gun, rocket launcher, bridge front Q8 $ 4.50
Set F584E 21 views, from shore, 1 nice overall, 20 views, similar to F584C, but slightly different angle Q8 $ 15.75
If you came to this page via an off-site link, just click the back button on your browser to return.
06/17 Version 2.4
37