SeaPhoto / Catalog / Catalog Index / Belgian Navy
Belgian Navy
Frigates
Karel Doorman Class
Two of the Dutch Karel Doorman class Frigates were sold to the Belgian Navy in 2005 to replace older units. These are multipurpose frigates that can be using for Anti-air, submarine or surface warfare.
Louise-Marie (F931)
Photographed in June 2009 by Frank Findler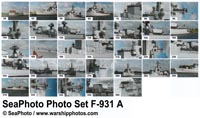 Set F931 A 29 views, from shore, a mix of overall and a bow to stern mosaic along port side. Q9 $ 21.75

Set F931B 10 views, from shore, details along port side to stern. Q8 (some vies a bit dark, but very useable) $ 7.50
If you came to this page via an off-site link, just click the back button on your browser to return.
6/17 Version 1.1
23