Warship Models Underway / Ship Model Gallery / Gallery 77

Gallery Page 78
James Gee's 1/96 USS Lloyd Thomas DD 764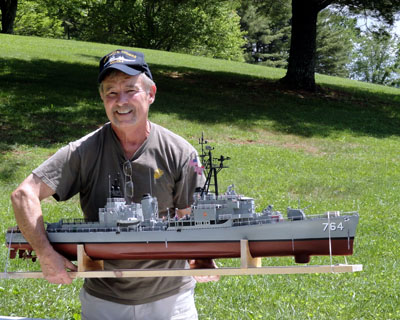 This is a Gearing class destroyer built following FRAM II upgrades
Jim writes:
My name is Jim Gee and I'm retired Navy. Spent two tours at sea on a tincan and an LPH. Except for tours with the Fleet Marine Forces, I spent most of the rest of my time conducting ship inspections with INSURVPAC, NEPMU etc.
My favorite ship was my tincan, a FRAM II Gearing class can. The USS Lloyd Thomas, DD 764 was launched as an all-gun DD in 1947, then changed designator in the 1950's as a DDE. She had mount 52 replaced by a trainable mk 15 hedgehog mount. She was again designated a DD in the 1960s when she received a FRAM II configuration. Sometimes mistaken as the Carpenter class (the Carpenter and Lloyd Thomas looked nothing alike) The six ships Lloyd Thomas class consisted of the her, Keppler DD 765, F T Berry DD 858, Norris DD 859, McCaffery DD 860 and Harwood DD 841.
This project took me over 2.5 years to build. It was my first large scale (1/96 scale) attempt of building the "LT" after converting a "Blue-devil" 1/144 into a FRAM II Gearing. I bought the FRAM kit from BaD ships and built the hull from the ribs up. However, I scrapped everything from the weather deck up and built it from scratch with evergreen plastic and plans from Tincan Sailors of the USS Keppler DD 765.
I made the mk 25 21 inch fixed torpedo tubes and torpedoes from scraps, reconfigured John Haynes very fine fixed hedgehog mount into the mk 15 trainable mount , antennae from piano wire, tiny washers and jeweler's "thing-a-ma-jigs" and lifelines using John Haynes USN stanchions and very fine piano wire coated with "gun-blue" to prevent rust.
I'd like the thank Tincan sailors, William Upshaw and everyone from "Model Warships Underway", John Haynes, Bad ships and the crew of the old Lloyd Thomas for so much technical help. Below are some pictures from start to finish: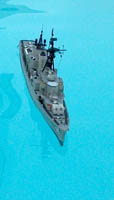 ---
Back to Warship Models Underway

This page maintained by Kurt Greiner. Email me here.
This page viewed 438 times. Thanks for stopping by!
Version 1.00
Last update 9/13