Warship Models Underway / Ship Model Gallery / Gallery 77

Gallery Page 77
HMS Penzance (M 106) by Dave Reith in 1/48 scale
Dave writes:
The model is constructed from a SIRMAR hull of the class lead (Sandown ownership) Once again 95-99% of the fitting are self-made She is powered using a Graupner Voith Schneider unit with a speed 600 motor.
Working details are:
Nav Lights
Bow Thurster
Radar
30MM BMARC gun mount
HMS Clyde (P-257) by Dave Reith in 1/48 scale
Dave writes:
The model is 1/48 scale, has several working items such as lights, gun mount, RIB Davits, radar, anchors and sound unit. A part from the Hull which was purchased from SIRMAR FITTING, the model is scratch built.
Clyde still has approx 6 months more detailing before she complete.
---
Richard Thurston's 1/72 HMS Ocean (R68), Colossus-class light fleet aircraft carrier
Richard writes:
I have built a 1/72 scale model of HMS Ocean modelled on the Suez canal crisis 1956 when she brought back 590 Royal Marine Commandos and all thier supply's - my dad who was a 42 commando back to Plymouth, sadly passed away in 2001, and being a keen model maker I thought it would be great to build the ship he came home on in 1956.
I started the build in Nov 2008 and only 9 months later had built the model. She has 186 lights, red and white, working anchors, two working radars, smoke unit, rotating helicopter with sound, Morse code lights with sound, plus the band of the Royal Marines come up on the front flight deck playing Soldiers of the sea, Life on the ocean wave, and Sunset. In addition,a fighting attack roll plau show which last's about 8 minutes.
I display my model at Eaton park Norwich and I belong to the local model boat club there we have a web site www.norwichmodelboatclub.com please have a look in videos you will see the model in action.
I also make the smoke units for model boats which your viewers might want to know about the web site is www.steammasterunit.com
---
Jim White's USS Dash (MSO-468) and YOG-5 in 1/96 scale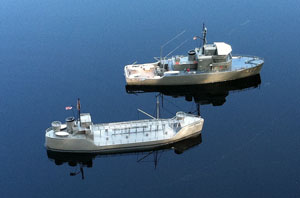 Jim's father serviced on these ships, which are both built from scratch
---
Models by David McNairTaylor
Type 45 Destroyer HMS Dauntless at 1/96 scale
Scratchbuilt, using a Sirmar hull
HMS Lancaster Type 23 Frigate in 1/96 scale
HMS Exeter Type 42 Destroyer
Scratchbuilt, using a Sirmar hull
HMS Lincoln TYPE 61 Frigate
Built on a "Cammett" hull, which is now part of Scalewarship.com
HMS Sir Galahad a Round Table Class Minesweeper in 1/48 scale
Based on a Caldercraft Hull , Superstructure and other items scratch built.
HMS Kirkliston Ton Class Minesweeper 1/48 scale
Based on a Sirmar Hull
USS McNair (DD-679) in 1/96 scale
Built using the Deans Marine USS Kidd kit, modified to reflect the appearence of the McNair in 1944. The model took 7 months to build.
---
Back to Warship Models Underway

This page maintained by Kurt Greiner. Email me here.
This page viewed 2191 times. Thanks for stopping by!
Version 1.26
Last update 2/14