Gallery Page 4
Click on any image to enlarge. -
---
Special Section
Warship and Model Submarine Regatta, September 2000, San Francisco
A few views from a most enjoyable 2 day regatta held at the Flycasting Ponds, Golden Gate Park. See you there in 2001!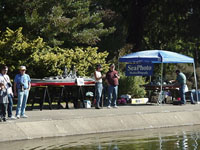 The scene at the Flycasting Ponds - an excellent place to run, albeit once a year.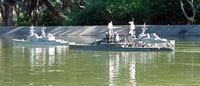 It was a great couple of days for running, and a chance to practice some fleet maneuvers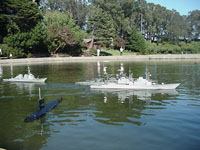 Even a - gasp - submarine tried to pierce our mighty formation, but to no avail! <grin>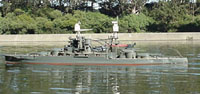 Winner of best in show for surface warships was this magnificent USS Arizona by Kevin Gatton
Some more views of this fine model. Kevin has said he has even more detail to add before he completes this project.
Here we get a chance to practice some of our formation running. I still have to do a bit of touch up on the side of my DDG - I definitely need to practice more!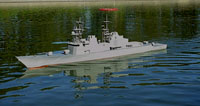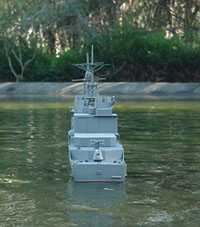 Of course, Ryan showed up with his Sprucan. Still need those bridge windows buddy! Hanger doors looking good though!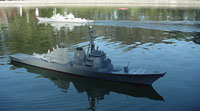 Ryan and I practice our Sprint and Drift tactics...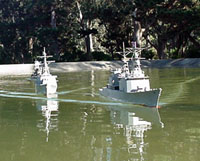 And then go tearing off across the pond on a speed run.

With so many models, things can get a bit crowded sometimes.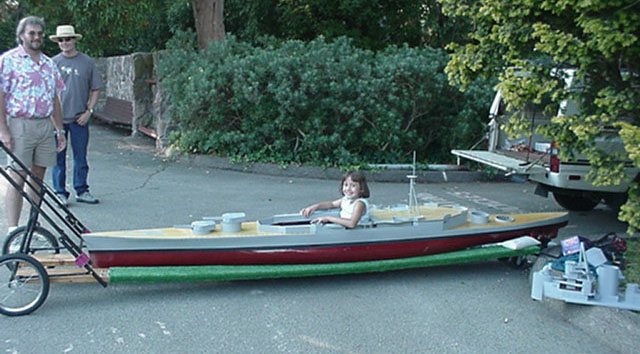 Finally, I show that it is indeed possible to pick up girls with working model warships. In this case, John Anderson's HMS Hood.
---
Back to Warship Models Underway

This page maintained by Kurt Greiner. Email me here.
This page viewed 11
Version 2.1
Last update 06/02