Gallery Page 3
Click on any image to enlarge. -
---
USS Jenkins DD-447 as she appeared during 1960's in her FRAM'd configuration - model by Jack Bitters
There were only 3 of the USS Fletcher DD-445 class destroyers that went through the full FRAM conversion process.
Model is built in 1:96 scale, is 47" long and features the hull and fittings from the Scale Shipyard. Model is built using Lexan for the decks and ABS for the bulkheads etc. This model features:
Twin electric motors
Rotating radar
Horn and battle wooper sounds. Thanks to Lee Upshaw for sending in these pictures.
---
Bob Evans kindly sent in pictures of Ralph Glew's USS Enterprise (CV-6), which is built on a Scale Shipyard hull. Note the clever transport and launch arrangement that Ralph has devised...
---
John Anderson from Redwood City California has undertaken an ambitious project: The Battlecruiser Hood in 1/72 scale. He sent some construction views to share with us:
---
Garry Armstrong sent in a group shot of a fellow New Zealander who builds and collects 1/96 scale warships. Garry built the USS Brooke and later sold it to this gentleman.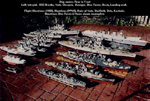 ---
Back to Warship Models Underway

This page maintained by Kurt Greiner. Email me here.
This page viewed 87
Version 2.1
Last update 06/02