Gallery Page 35
Click on any image that has a border to enlarge. -
---
R. Motyaka's Sovermennyy Class Destroyer in 1/72 scale
Dave Wooley sent in these photos of this Sovremenny seen at the 05 Ellesmere Port Convention. Its a working model and Dave believes the hull is built up from card covered with resin. Mr. Motyaka is presently working on the Udaloy 2 calss destroyer Admiral Chabenenko at 1:72 scale .
---
Dave Wooley's Photos of Potteries MBC Navy Day, 2005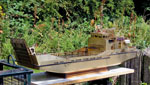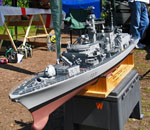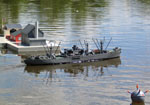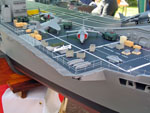 Paul Simpson's HMS Illustrious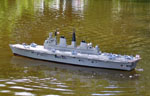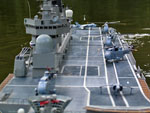 Dave Markham's HMS Illustrious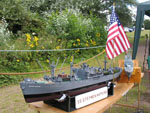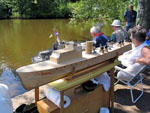 ---
Rolf Busetto's IJN Yamato in 1/72 Scale
Rolf writes:
Model built without a plan of construction , but using the book The battleship Yamato by Janusz Skulski. Length 3.65 mt Width 5.3 weight 50 Kgs. When finished, the weight in water it will be around 130kg 4 motors ,12V used for the starting r/c cars, two car batteries 12V 40 Amp, four 12V 7Amp for the movements of the turrets. Model will have many working features, including lights, smoke and more. 2 years for the planning and the construction the hull and in wood and covered by 5 kgs G4 polyuréthannes resin époxy
---
Back to Warship Models Underway
This page maintained by Kurt Greiner. Email me here.
This page viewed 31
Version 1.2
Last update 02/06