Gallery Page 28
Click on any image that has a border to enlarge. -
---
The Models of GMS Model Building, St. Petersberg, Russia
Andrei Gorbunov was kind enough to send in some photos of the superb models his company has built. For more information about completed models, brass superstructures, or hull and plan sets, please visit his website.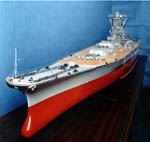 1/100 scale Yamato built circa 1996
Details of the Yamato Model. Andrei's firm is noted for it's fine brass superstructure and details, clearly evident in these photos.
1/100 scale HMS Nelson built circa 1996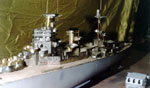 And more details of the HMS Nelson model, again showing the metal working skills of GMS Model Building.
---
USS Ticonderoga (CG-47) Superstructure, in progress
Scale 1:72
---
Back to Warship Models Underway
This page maintained by Kurt Greiner. Email me here.
This page viewed 77
Version 1.2
Last update 03/05