Gallery Page 18
Click on any image that has a border to enlarge. -
---
Models made with Fleetscale Semikits
Ray from Fleetscale sent in the following photos, all made by experienced scratch builders using Fleetscale semi kits. In the United States, these products are available from Loyalhanna Dockyard.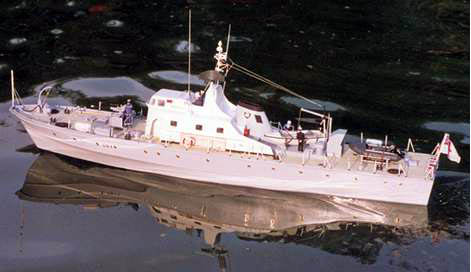 A Fleetscale Vosper Fast patrol Boat by Rob Fairweather in 1/48 scale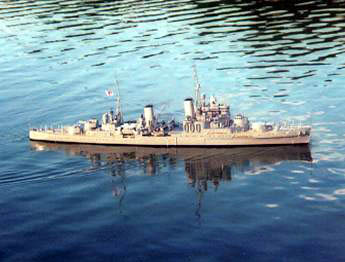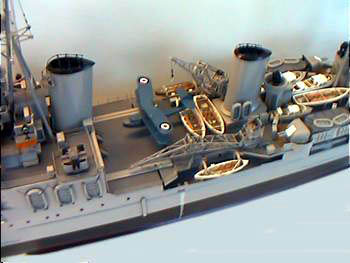 Fleetscale Town Class WW2 Cruiser, HMS Manchester by Stuart Bolton in 1/128 scale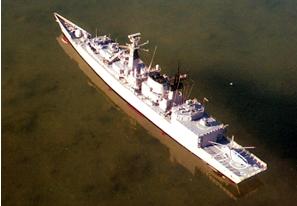 Modern Royal Navy Type 22, HMS Cornwall also by Stuart Bolton in 1/96 scale
---
Tom Stark's USS Saucy in 1/72 scale
Tom sends in these pictures of his USS Saucy, built on the classic Revell / Matchbox kit
---
Miguel Sanches' USS Chandler in 1/96 scale
Miguel is from Lisbon, Portugal, and sends in these photos of his USS Chandler (DDG-996), built on a Sirmar hull in 1/96 scale
---
Ken Parker's HMS Dulverton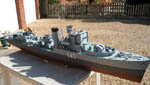 HMS Dulverton was a Hunt Class Destroyer of WWII sunk, off Crete, by a German glider bombat 1:48 scale. Ken built her with a Sirmar semi kit; Hull and fittings and painted her in Mediterranean. Ken is the membership Secretary of the Surface Warships Association, a UK based model group that specializes in warship modeling.
---
Back to Warship Models Underway
This page maintained by Kurt Greiner. Email me here.
This page viewed 220
Version 1.12
Last update 12/09