Gallery Page 74
Carlton Purgold's 20' Model of the Battleship Bismarck
---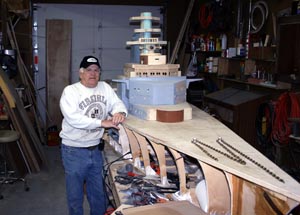 Captain Carlton and 20 ft Bismarck Manned Model.
Click on any image to see a larger version
This Model of Battleship Bismarck shows her appearance in 1941, and is approximately 1/40th scale. The 20 ft long ship is a " Manned" model. Therefore, it was necessary to take certain liberties in scale to permit enclosing the "Captain" (me), on board. The ship is expected to weigh 575 lbs including the Captain, and has a draught of 5.25 inches. The sides are 17 inches from keel to main deck. The entire 1/4 inch thick hull will be covered in fiberglass. It is powered by a 30 lb Thrust Trolling Motor, mounted in a wet-well inside the hull. The motor is remotely steered by a single control cable, and is raised and lowered using a 105 lb thrust 12 vdc linear actuator. In addition to being commanded by the full-scale Captain, the ship functions are also designed to be remotely operated by Radio Control, when desired. Since there are only a very few manufactured items available for this scale, everything must be hand fabricated or improvised from something else. The port holes are actually #10 hinged, screw cap covers. "O" Gauge railroad figures were found to be a reasonable scale for this ship. Ship specifications and hull lines are from an enlarged set of 1:150 German Naval Ship plans ( # ANB-1082 ) which were obtained from Taubman Plans. Another source of reference is a 72 inch R/C Bismarck model, scratch built back in 1975.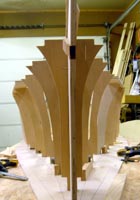 Frame lay up bow view.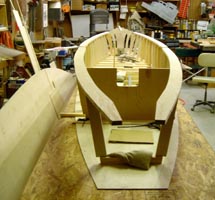 Stern view of frame and rib lay up also showing engine well.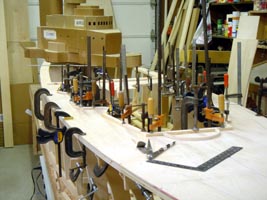 You will need Lots of clamps of all sizes.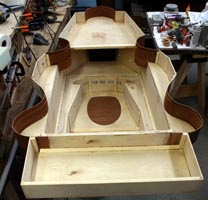 Underside view of fwd superstructure and bridge area.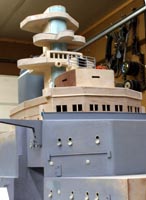 Fwd Bridge area under way. Naval workmen on board.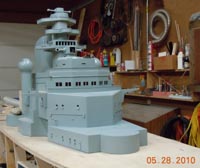 Forward Bridge unit in paint.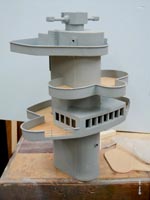 Upper Bridge area unit assembled. Glassed over Foam center structure.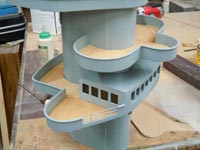 Upper Bridge area Fir decking build.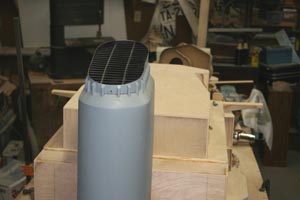 Main Stack looking fwd.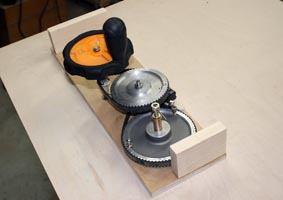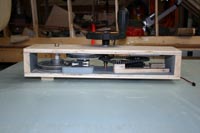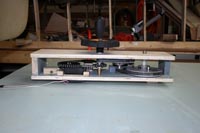 Steering reduction belt drive system.

Steering reduction controls mounted in ship.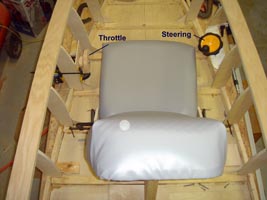 Captains Bridge Chair and motor steering and throttle controls.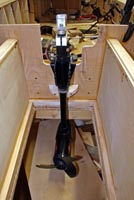 Shortened Trolling Motor mounted in the internal wet well.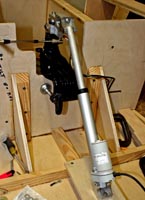 Trolling Motor Retractable Actuator and Steering Cable hookup.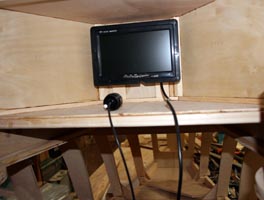 Digital 7 inch Monitor (2 cams) mounted in Bridge area for outside viewing.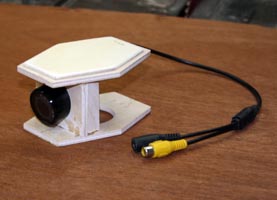 CCTV Camera mounted hidden in fwd Range Finder housing. .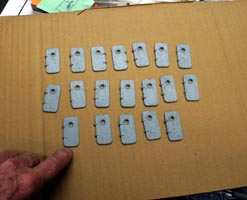 Water-tight Doors made in mass.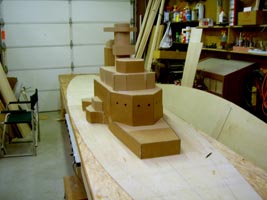 Cardboard Mockups of important areas is a critical and necessary step.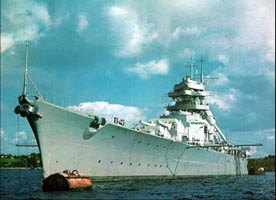 Actual photo of Bismarck in 1939.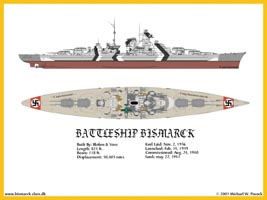 Real Bismarck Data and Photos.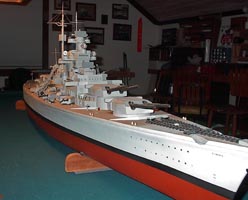 My 72 inch Reference Model which I built in 1975.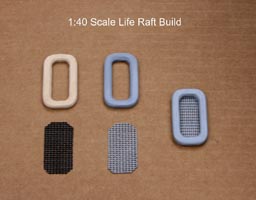 1/40 Liferaft build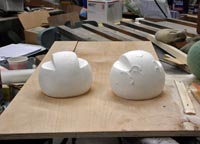 Range Finder Domes constructed from Foam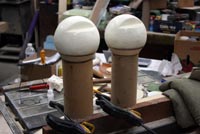 Assembly of Range Finder Domes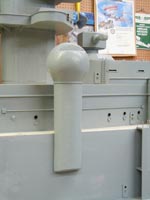 FWD Range Finder mounted on ship.
---
Back to Warship Models Underway

This page maintained by Kurt Greiner. Email me here.
This page viewed 22356 times. Thanks for stopping by!
Version 1.221
Last update 1110