Gallery Page 66
Randy Heim's Prinz Eugen in 1/100 scale
The model of the Prinz Eugen is depicted as it looked on the morning of 22 Feb. 1942 off Grimstadfjord. The tops of the main gun turrets are painted yellow for aircraft identification…yellow designated the ship as supporting Atlantic operations.
This 1:100 scale R/C model is a scratch built representation that was built in two phases. Initially the fiberglass hull, propeller shafts, rudder, guns and main deck were completed over a two year period in the 1980s and then remained in storage until 2004. From January 2004 until the summer 2006, the remainder of the model was completed. Almost every piece was hand made, only the propeller on the AR-196 float plane and some of the smaller life boats were taken from a kit. The model is approximately 82" LOA, with a 9" beam and is powered by two Dumas motors, each having its own speed control. Control of the ship is directed by a Robie F14, with dual motor control, allowing each motor to function independently. All main gun turrets are controlled for traversing only. The model is equipped with an internal sound system for engine, bells and various gun sounds, plus some authentic German Naval music.
---
Larry Schaber's USS Wainwright (CG-28) in 1/96 scale
Larry built the USS Wainwright, a Belknap class cruiser, using the BaD ship models kit.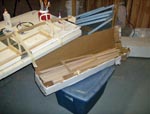 Starting Out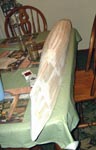 Hull Filled and sanded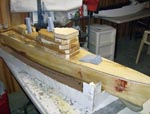 Rough, but coming together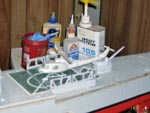 Helo Deck with Plastic Helicopter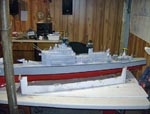 Finished Model
---
Eric Noe's HMS Danae in 1/96th scale
She is a Leander Class Firgate in the late 1980's.
---

Eric Noe's HMS Arrow in 1/96th scale

---
Nick Carter's HMS Ark Royal in 1/96th Scale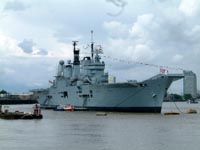 The prototype
Nick's model is built on a Fleetscale hull, using Sirmar fittings, and represents the ship as she appears today.
---
Andrew Grant's USS Missouri in 1/128 Scale
Grant is using the Fleetssclae semi-kit for this project.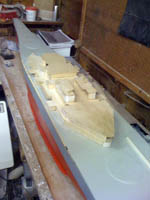 May 19, 2010 Update
---
Bundesmarine destroyer D 185 LÜTJENS, by Dittmar Mathias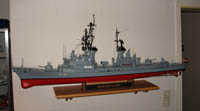 ---
Prinz Eugen in 1/128th Scale by Dave Reith
David writes that this model of the Prinz Eugen represents the ship as she appeared in 1944. The model took three years to complete with about 95% of the details made from scratch. It was built using a Fleetscale hull.
---
Back to Warship Models Underway
This page maintained by Kurt Greiner. Email me here.
This page viewed 69 times. Thanks for stopping by!
Version 1.37
Last update 11/11