Gallery Page 62
USS Gurke (DD-783) in 1/48 scale by Gordon Briggs
Gordon built this model using a hull with fittings from The Scale Shipyard.
---
USS South Dakota (BB-57) in 1/48 scale by Roel and Pieter Bakels
April 2, 2009 Update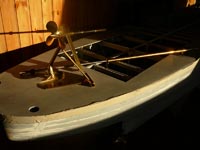 April 13, 2009 Update
March 13, 2012 Update
Roel writes: Having constructed a working table which will later carry the glass case, I started working on the missing bilge keels. The four prop shafts were next.
December 18. 2012 Update
Work has begun on the rudders; Rudder blades: hard oak Rudder shafts: brass Rudder pins: steel
OS2U Scout Plane - The OS2U was built by Kyle Williams, Mobile, Alabama, making use of the Monogram kit with the Cutting Edge corrected floats, cockpit, cowling, etc.
Steering foundations and main deck work
20mm Galleries
August 2013 Update
December 20. 2013 Update
February 2014 Update
April 2014 Update
January 2015 Update
May 2015 Update
January 2016 Update
Pieter writes: Here some new progress views of my model- the rangefinders took up some time- what is lacking are some screw bolts- I already bought them on e-bay and will fit them later. A switch on the back plate of her quad 40mm mount also has to be made but for the time being I will first continue some work on the #2 16-Inch turret.
---
USS Bennett (DD-473) in 1/48 scale by Ron Berry (Bath Builder)
This is the USS Bennett DD473, which was constructed over the course of over two years. The frame work is 1/4 inch plywood, planked with 3/32 inch maple with a layer of plastic that insures that it is water proof. The decks are of marine/aircraft plywood. The structures above deck are basswood. The mast is brass as are the stanchions and rails. Ron did a lot of carving, including the anchors,whale boats, guns,and many other fititings.
---
Back to Warship Models Underway
This page maintained by Kurt Greiner. Email me here.
This page viewed 55
Version 1.30
Last update 1/16