Gallery Page 60
Paul van Eijl's Hr.Ms. Kortenaar (F807) in 1/100 scale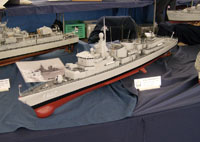 ---
Paul van Eijl's Hr Ms De Ruyter (11935) in 1/100 scale
This ship was built in the Netherlands in 1935 for service in the West Indies, and was sunk in the battle of Java Sea by the Japanese in 1942. The model is 178 cm. long and fully radio controlled with turning turrets and catapult. It was built from wood and ABS plastic.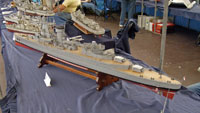 ---
Adriaan Paans' Hr.Ms. Jacob van Heemskerck (F812) in 1/75 scale
A unit of the Royal Dutch Navy
---
Nils Lagergren's Imperial Russian warship Aurora in 1/100 scale
---
John Aartsen's Corvette Fatahilla in 1/75 scale

John Aartsen's Minesweeper Drachten in 1/50 scale
John Aartsen's Frigate Witte de With in 1/75 scale
March 23, 2009 Update
---
Back to Warship Models Underway
This page maintained by Kurt Greiner. Email me here.
This page viewed 6
Version 1.33
Last update 12/10