Gallery Page 59
Dave Wooley's Coverage of the Model Engineering Exhibition at Ascot race course
This is the centenery year so the exhibition moved to the grand venue of Royal Ascot .
---
Alex McFayden's 1:96scale model of the battle cruiser HMS Anson
A 9x16inch gunned "G3" design which was never built because of the Washington naval treaty of 1922

A nice model of HMS Cornwall, a Type 22 Frigate, in scratchbuilt in 1/96 scale
Building unknown - if anyone call send in the name, I will update this
The working main turrets of a 1:96 model of the battleship Richelieu .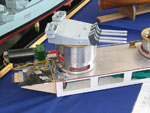 An assortment of other views from the exhibition
---
Back to Warship Models Underway
This page maintained by Kurt Greiner. Email me here.
This page viewed 85
Version 1.11
Last update 11/10