Gallery Page 26
Click on any image that has a border to enlarge. -
---
Carlos F: Perdomo's Scharnhorst in 1/128 scale
My Scharnhorst is 1:128 scale, based on a Fleetscale hull. I got some fitting from Radestock (Editors note, he is no longer in business.) and Loyalhanna Dockyard, where I also purchased the Electronic Speed Control and the Motors.
I have an Airtronics 6 channel Radio that I bought from Skip Asay , originally for a Sub and have an extra receiver for the ship.
I´m planning the construction of a electro-mechanical multi-switch to make the main turrets rotate and elevate the barrels, and other functions like rotating of the range finders,the 15 cm guns and the catapult.
January, 2004 - Carlos sends in some new photos of his ship in the water, and the superstructure in progress...
---

Adrian's 1/96 scale USS Missouri
Adrian writes in from New Zealand, sending in these photos of his first model ship, and quite an ambitious one at that, a 1/96 scale model of the USS Missouri. She is built on a Scale Shipyard hull, with John Haynes fittings. The superstructure was constructed from 5mm balsa sheet. A very impressive effort!
April 7, 2006 Update
The Missouri is shown operating with Adrian's latest, a 1/96 scale USS Fletcher made from the Dean's Marine kit - another very well done model!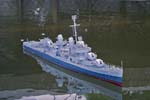 ---
Paul Woulf's USS Klakring FFG-42 in 1/96 scale
Paul has been building this model for a bit over 3 weeks at this point. It was based on a Scale Shipyard hull that Paul said was delivered remarkably quickly after his order was placed - about 3 1/2 weeks. He has been using Scale Shipard fittings, and plans on making figures using Preiser railroad minatures as a basis. We will post more pictures as we get them from Paul.
July, 2004 Update
---
Nils Lagergren's RMS Lusitania and Russian Cruiser Aurora in 1/100 scale
Nils sends in this photo from Sweden. The ship behind is the "Indochine", built by Magnus Persson. All the ships were scratchbuilt.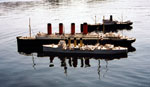 ---
Back to Warship Models Underway
This page maintained by Kurt Greiner. Email me here.
This page viewed 506
Version 1.92
Last update 03/06