Gallery Page 22
Click on any image that has a border to enlarge. -
---
Dick Hopper's HMS Dumbarton Castle K-388
Dick writes that he built this model 29years ago, out of balsawood and scrap. He sold it, but the owner died, and bequeathed it back to him. After that time it remained untouched under glass. Dick installed 2 channel radio and Aldis lamp from EA electronics.
---
Don Macdonald's USS Guadalcanal (CVE-60)
Don started with a model of a merchant ship, in this case, a tanker, and converted it into a CVE, following full size practice! Don's CVE is 5 and 1/2 feet long with a fiberglass hull and wooden deck. It is fully scratchbuilt. The model is powered by 2 12 volt motors, driving two props, and steered with a single rudder. Right now it is set up for two channel operation, but Don will be adding more details and functions as he progresses. That striking camouflage job sure looks great out on the water...
July 9, 2003 - Don sends in some more shots of his CVE...
October 24, 2005 - some more shots of the CVE, and some fun with photo editing software...
If only we could get some really, really small r/c aircraft...

---
Don Macdonald's USS Bulkeley (DDG-84)
---
Don Macdonald's LCI-713
---
Don Macdonald's LST
---
Other ships from Don Macdonald
A sampling of some other warships Don has built, including a submarine, the USS Wisocnsin (BB-64) and the USS The Sullivans (DD-537), and a collection of landing craft
---
Darcy Ellis' Sovremeney 684
I hope to see more pictures of this 1/72 scale Russian Guided Missile Destroyer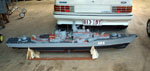 ---
Bill Brown's USS Missouri (BB-63)
This fine 1/96 scale model is headed for the Veterans Memorial Museum in Branson, Mo. Long time ship modelers might remember Bill's fine New Jersey model from the mid 80's which was featured in the pages of Scale Ship Modeler magazine.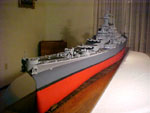 ---
Bill Brown's USS Arizona (BB-39)
Another great 1/96 battleship from Bill, this model is in the National Freedom Museum, in Pigeon Forge, TN. Both this model, and the Missouri model featured above were built on Scale Shipyard hulls.
---
Back to Warship Models Underway
This page maintained by Kurt Greiner. Email me here.
This page viewed 276
Version 1.82
Last update 10/11