Gallery Page 14
Click on any image that has a border to enlarge. -
---
USS Safeguard (ARS-25) by Paul Knerim
I was very sad to hear that Paul has passed away. I will remember his good humor and companionship over many hours of working on models together. Paul served on the Safeguard during the Korean war, and he was justifiably proud of this model of his old ship. Fair winds and following seas my friend.
This model was in the LA Maritime Museum for a while, but now is up for sale by Paul's family.. It is a 1/48 scale scratchbuilt model built to a very high standard. If you are interested in purchasing her for either display or radio controlled use, you can contact Paul's daughter at kadow@sbcglobal.net
---
USS Boone (FFG-28) by Duane Curtis
March 17, 2009 Update
---
USS Anzio (CG-68) by Duane Curtis
These photos were sent in April, 2003
---
HMCS Barrie K-138 by Duane Hill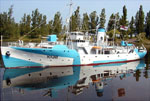 Another great model sent in by Duane, his latest in 1/48 scale.
1939-40 Flower Class Corvette
51 inches long
Scratch Built, including Paravane, Winch and Minesweeping gear on squared stern.
Operational Features
Speed - Forward/Reverse
Rudder
Rotating 4 inch gun
Rotating Pom Pom
Battle Siren
Sonar
Fog Lights
Running Lights
Chimney Smoke
12 Volts 7.5AH batteries

---
USS Missouri (BB-63) in 1/96 scale by Brad Newland
Brad is building this model with a combination of Scale Shipyard, and John Haynes parts.
First a couple of shots of a test run at the lake...
Now, a peek inside at her electronics - she is using a MCD speed control.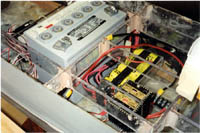 A view of her relays...Brad writes:
The Relays are part of the [Robbe] F-14 radio setup, and while it hasn't been the easiest system to work out, I'm getting there. The relays in the pictures are "duo switches" available from Ships n Things. They enable the F-14 radio to control a motor in either forward or reverse (in this setup they conrol the 16" turrets in my USS Missouri) Note: one also needs the proper expansion module for the radio in order for this system to work.
Finally, a shot of her rudder mechanism. Brad's comments:
I had to come up with some kind of setup that would allow me to drop the rudders out of the model, to allow for maintenance. I thought about setscrews and reachrods for this, but the idea of a screw setup sounded easier to me. First, I bought four miter gears from MSC, and made a 1/4 inch insert to fit in the bore of these gears. Then I drilled and tapped the insert to accept a 3/16" threaded shaft. The shaft is affixed into the rudder stock, therefore when the mitergear is turned it forces the rudder assembly out through the hull. Later the rudder shaft will be keyed, and the rudder arms will have a piece of keystock installed, so the rudder will only go on one way.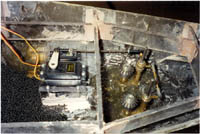 March 16, 2004
Brad gets a new digital camera, and sends in these photos of his model. He has just started the planking.
November 16, 2004
Another new update, at the start of the Winter building season
April 5, 2005 update
Some more progress, showing the effects of a long Winter
August 29, 2005 update
March 8, 2007 update
February 14, 2008 update
Getting there- since last week- the cranes been painted, searchlights are in (most of them) some aerials, turrets are off for painting (as are the barbettes) Directors are installed- most of the 20mm battery is in place- as are the 40's
February 27, 2008 update
All the 40mm are in- 20mm are all installed- rigging is mostly done- deck winches are on, 5 inch turrets have been painted, as have the 16" turrets.
Still to go, Seaplanes, floater net baskets on the backs of the turrets, SK-2 Radar, and lots of painting
March 31, 2008
Done!
March 20, 2011 Update
---
USS Laffey (DD-724) by Brad Newland in 1/96 scale
This is Brad's spring and summer project, as he can work on it during his off time on his ship.
---
Back to Warship Models Underway
This page maintained by Kurt Greiner. Email me here.
This page viewed 13
Version 1.92
Last update 03/11