Gallery Page 11
Click on any image to enlarge. -
---
2001 San Francisco Warship and Model Submarine Regatta
The 2001 San Francisco Warship and Model Submarine regtta was held on September 29 and 30 at the Flycasting Pools in Golden Gate Park. The weather was absouluty outstanding, clear and hot - very un-San Francicscan! The Flcasting pools make a great place to run model submarines, with clear water that allows submarines to be seen - and stalked - from the shore.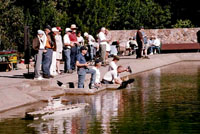 An Overview of the pond, showing the "pit". This is a concrete lined hole right next to the water's edge, about 4 feet deep. Perfect for launching your model, or just get a view right from the water level. Photo courtesey of Tim Smalley.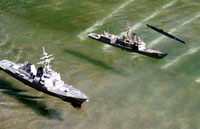 My John Paul Jones running with Jack Bitter's USS Rentz (FFG-46) and Steve Vicks USS Trutta (SS-421), a Tench class submarine with the GUPPY IIA upgrade, a rarely seen subject, and very nice model. Photo courtesey of Tim Smalley
---
This is the Peruvian (later Chilean) turret ship Huascar, built by Chalo Guevara I really liked this model, both because of the unusual subject and crispness of workmanship. Thanks to Jim Kerswell for writing me wiith the modeler's name!
---
These photos courtsey of Lee Upshaw.
Some more photos of the Trutta. Those GUPPY subs have a lot of potential for interesting details. This sub was made from a Scale Shipyard hull.
Jack Bitter's USS Rudderow (DE-224), also made on a Scale Shipayrd hull. Jack built this model in a little over 3 months, and is on his way to building a new destroyer now!
---
Kent Strapko brought his USS Lexington all the way from Colorado
---
Some of the Vendor's wares on display at the show. The gray hull is from a new company, Dreadnaught Model Shipyards, which offers a 1/96 scale Lexington Class (CV-2) hull, and the white hull is Scale Shipyards's 1/96 scale USS Enterprise model.
---
Some additonal models at the show...
---
Back to Warship Models Underway

This page maintained by Kurt Greiner. Email me here.
This page viewed 75
Version 1.2
Last update 06/02