Gallery Page 72
Models by Graeme Martin
Graeme builds models professionally, and his work can be seen at his website.
USS Missouri in 1/128th Scale
Based on a Fleetscale hull and semi-kit.
USS Missouri in 1/200 scale
HMS Warspite in 1/128th Scale
Built using an Abco hull - we think this company is no longer is business (if this is not the case and you have a link, please send an email to the webmaster)
HMNZS Canterbury (F-421) in 1/96th Scale
This model was built using a Sirmar hull and parts. Exceptional references were supplied by the officer who commissioned the build.
HMNZS Otago in 1/72 scale.
This model was built using a hull from Allen Pew of APS Models in Australia.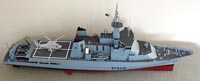 HMAS Sydney

1/128 Scale


No higher resolution available
Graeme writes
-
1/128 scale model of HMAS Sydney for Sydney client. She was lost off the west coast of Australia on November 19, 1941. with of 645 of her men. It has taken about 4 months to build after receiving the hull from 3 D company. Feed all the hull lines and cross sections into a computer and built the hull in four separate pieces, then joined together. Built as 1/128 scale so I could speed up build process by using some of Fleetscale fittings. Thanks also has to go to Rowan Wademan of Sydney, for funnels and main turrets. Things like the catapult and crane scratch built. I'm sure there are a few things wrong with her. But all in all she's pretty true to the set of plans I have and photo reference I received from various quarters.
HMNZS Ross Sea in 1/72 scale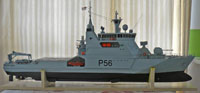 Graeme writes -
HMNZS Ross Sea was a hybrid model, built for a client here in Auckland, NZ. 1/72 scale HMS Tyne hull was used and a rough copy of the Norwegian Icebreaker Svalbard's Superstructure was used. The Norwegian Icebreaker was wider in the beam so a fair few adjustments had to be made during the construction. My client loves lots of gizmo's on his ships so I cluttered her up to a point that in real life she would be a bit top heavy, But the ship sails well and client is more than happy.
HMNZS Inverill in 1/72 scale
Bathurst class corvette, transferred to the Royal New Zealand Navy in 1952
---
Back to Warship Models Underway
This page maintained by Kurt Greiner. Email me here.
This page viewed 868 times. Thanks for stopping by!
Version 1.07
Last update 5/15