Warship Models Underway / Ship Model Gallery / Ship Models by John R. Haynes
Ship Models by John R. Haynes
---
This page is to show off the models, and more importantly, the techniques employed by Mr. Haynes in the construction of his fine models.
John Haynes at work on his model of HMS Hermes
---
USS PC-487 in 1/96 scale
For this project, John highly recommends the book PC Patrol Craft of World War II: A History of the Ships and Their Crews, by Wm. J. Veigele ISBN: 0-9645867-1-1 This book and plan gives all the detail down to the last rivet .
---
USS Southerland (DD-743) FRAM 1 Configuration in 1/96 scale
---
USS Missouri (BB-63) in 1/96 scale
She is depicted in her 1945 configuration. This model is displayed onboard the USS Missouri at Pearl Harbor, Hawaii
---
USS Foreman (DE-633) in 1/96 scale
---
HMS Upholder in 1/72 scale
---
HMY Britannia
John has also sent in photo of a completed model, the last Royal Yacht, Britannia.
---
HMS Starling in 1/96 scale
If you study these photos, you can learn a lot about the construction of a highly detailed model. The real Starling was responsible for a Baker's dozen submarine kills during World War II - a very impressive record indeed!
July, 2005 Update
---
LSM-201
---
HMS Hermes
John Built this model about 14 years ago in 1/96 scale.
---
USS Yorktown CV-10
---
USS Spar (WLB-403)
---
USS Missouri (BB-11)
This model currently resides on the USS Missouri (BB-63) showing how far naval technology had progressed in just over 40 years.
---
HMS Belfast 1/192 scale
Models built for the Imperial War Museum
1939 Fit
1959 Fit
---
HMS Sheffield in 1/96 scale
Built for a private client
---
1/96 S class Destroyer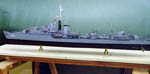 John built this model a few years ago for the Amsterdam Maritime Museum . It was for a trustee that was on this ship in the Korean War , after the ship was passed by the RN the the Neatherlands Navy.
To Contact Mr Haynes, email here
---
To Return to Mr. Haynes' fittings page, click here.
Please feel free to email me comments:
Back to Warship Models Underway
73 visits to this page.
Version 1.59
Last Modified 2/12. This page maintained by Kurt Greiner